Home remodeling is an expensive and challenging task. On average, US households spend $8,305 on renovations and more than $3,000 on maintenance. However, if you don't have that kind of money, it's still possible to upgrade the way your home looks using our simple ideas for remodeling that can help you to give your home a new look with limited resources and budget.
It'd be best to do this room by room, focusing on the areas that need your attention the most. According to studies, the kitchen remains the top priority for homeowners during renovations. But it isn't a hard and fast rule, and you can start wherever you want to. Here are our top modern remodel ideas to help you.
1. Update Bathroom Vanity Lights
New lighting fixtures can help elevate the design and space in your bathrooms. If you already like all the other fixtures and fittings but need a slight upgrade to the bathroom, get purpose-built vanity lights for this part of the house. Our favorite bathroom remodel ideas include:
-Bathroom Bar Lights can add a nice modern touch to your bathroom with sharp liner light contrast. Make sure to check the scale first so that you can get the accurate size that aligns with your mirror and other elements
-Another viable option is to use pendant lights. They add a nice look to your bathroom space. The bigger ones look amazing in front of solid frame mirrors and can create a sense of balance. Depending on the area and needs, you can also use more than one of those in your bathroom.
-Also, try out some sconce lights. They add an attractive look when installed above a mirror. You can select different designs according to your theme.
Additionally, here are 7 must-know bathroom remodeling tips from industry experts.
2. Switch Up the Doors and Doorways
The entry door is the first thing a person notices when arriving at your house.
If you don't want to replace the door just yet, try painting it in eye-catching colors with attractive textures or designs.
And once you are ready to change it, you'll find a wide range of door materials and styles. Following are the types of entry doors you can use to elevate your house's look:
-The first option is the all-time favorite: traditional wood doors. You'll be surprised to know that the market size of the wood door was $13.57 in 2020 because it has a huge fan base. Wood doors are durable and of high quality. They also come with coatings that protect the outside of the door against extreme weather. However, they do cost a little more than others.
-Another option to consider is fiberglass doors. These doors are well-known for their high durability and low maintenance cost. If you want a dent, rust, and corrosion-resistant door, go for fiberglass.
-Steel front doors are also known for their durability. They can come in different styles and colors that enhance your house's views.
You can use a combination of the above materials with glass windows. They are energy efficient and offer thermal protection. People who want natural light to illuminate their houses can go for glass front doors.
3. Install a Modern Window Style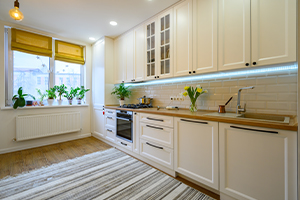 If you think that walls, tiles, and doors are working fine, only replace the windows with something more modern to switch up your style factor. Modern windows also make your home more energy efficient while enhancing the airflow and letting natural light in—a win-win situation. They are also UV resistant, protecting against harmful UV rays entering your home. You can choose from a wooden or metal frame using protective films and coatings.
Options include:
-Picture window
-Double-hung window
-Horizontal sliding window
-Single-hung window
-Bay windows
You can get many different types of windows in addition to the ones mentioned above. Get to know more on All About Marvin Replacement Windows. It will help you to make a better decision and select the perfect windows for your home.
4. Brighten Up the Walls
Your wall color has a significant impact on your house spacing. The color of your kitchen and room walls also impacts your mood. Many people think that renovating means buying new furniture and house equipment.
The good news is that you can save money by painting the walls to match the room's environment and set the mood. Make sure to look at the following colors for your modern home remodel ideas:
-Gunmetal Gray
-Aquarium Blue
-Gray-green
-Pure White
5. Add a Farmhouse Sink
We suggest looking at farmhouse sinks if you want a beautiful and timeless addition to your kitchen or washing area. They are deeper, wider, and more efficient than traditional sinks and will be the center of attention for any guests you may host. And they come in a variety of colors, materials, and styles.
Our favorites include:
-Copper sink
-Fireclay sink
-Cast iron sink
-Single basin farmhouse sink
-Double basin farmhouse sink
Get Expert Advice Today for Efficient Home Renovations
The home renovations above can lower the cost and give you the most benefit to your home from every dollar you spend. Wouldn't it be helpful to have expert advice and guidance that you can trust?
Get professional advice about roofing and siding to improve your home. Or you could always contact Total Home Construction for renovation and home improvement services. Visit the website and contact us today.