Windows and doors are an integral part of your home. Choose the right styles for an elegant look or an ultra-modern visage, depending on your décor goals.
However, not everyone is lucky enough to buy and live in homes with elegant windows and doors. In fact, depending on the age of your property, they may be old and decaying, which mandates a replacement job to ensure that your home is stylish and comfortable.
Is It Time For New Windows/Doors?
You may want to replace your windows and doors for functional or aesthetic reasons. Look for the following signs to confirm if you need to replace them:
They Don't Work Like They Used To
You've tried lubricating them, emptying the WD-40, and fixing the gasket, but the windows and doors no longer cooperate.
Over time as windows get old, they develop issues with their balance and tend to get stuck. You can see the discolored edges and rotting frames. This means it's time to get a replacement to make sure your windows are nicely sealed.
Outside Air is Coming Into the Home
If you notice that a room is often at an uncomfortable temperature, it's a sign that you should consider having the windows and doors inspected and replaced. These air leaks usually result from damaged or broken seals, disturbing the efficiency of your HVAC system.
The Utility Bills Are Getting Bigger
These openings play a crucial role in regulating the inside temperature. If you notice that you are feeling too hot or cold near your windows and doors, call in an expert to help.
When your windows age, cracks between the frame and glass panes begin to develop. These cracks allow the outside temperatures and elements in, putting pressure on your HVAC system and causing your bills to go up.
Your Windows/Doors Make Weird Sounds
They aren't haunted. But still, noisy windows and doors can cause a great deal of disturbance. When you start to hear pops, squeaks and cracks that can't be remedied, replacement may be necessary soon.
The Frames Are Clearly Damaged
Harsh weather and age can damage and decay the wooden frames, and extreme weather like storms can damage your window glass. If the damage is already done, it's time to give us a call for quick and reliable replacement services.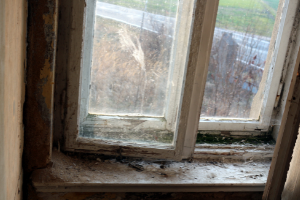 Your Windows/Doors Look Outdated
If you live in an old house that has never been remodeled or redesigned, your doors and windows are outdated too. We can help you select from various timeless and modern designs that go well with your design goals.
They Are Starting To Fall Apart
Many old doors are made of wood, so water and other elements can cause rot. Paint can start coming off and the glass will fog up too. You can easily notice these physical changes.
The Best Materials For Your Replacement Windows And Doors
The right materials can have a significant influence on your windows, doors, and your house. There are many options to choose from. Let's explore the best types:
Natural wood: Gives your home a natural look with good insulation.
Fiberglass: Requires very little maintenance while also being durable and energy-efficient.
Vinyl windows: Energy-efficient and do not require patting or refinishing. They are also suitable for loud environments because of their ability to absorb noise.
Glass: Low-e glass protects you from UV and infrared rays while making your home energy efficient.
Tempered glass: A good option when you want to prioritize safety and security; they are durable and hard to break into.
Iron: Perfect for beautiful yet strong front doors.
Benefits Of Replacing Doors And Windows
Still on the fence about window and door replacements? Consider the following advantages:
Replacement doors and windows are an excellent investment in your home with high ROI value.
Modern doors and windows are designed for enhanced safety and security.
Newer doors and windows will be more energy efficient.
New doors and windows give your home a new, fresh look thanks to eye-catching designs.
Ready For Replacement Consultation With The Experts?
At Total Home Construction, we have decades of experience and expertise in window and door replacement. We offer reliable expert advice to help you select suitable materials for your windows and doors. You can count on our expertise in remodeling homes, roofing, and installing windows and doors.
Why Choose Total Home?
We offer a wide range of services backed by our commitment to providing the highest quality work for homes in Long Island, Queens and Westchester.
We are a family-owned business that has been serving the locality's need for reliable construction and remodeling solutions. Our trained, licensed, bonded professionals can get the job done with top-quality workmanship.
In addition to interior and exterior design expertise, we give you access to the best brands for windows and doors that are perfect for your replacement projects. You can request a free consultation at our website.
Get An Estimate Today
Let's get started. Visit our portfolio to see some of our favorite projects. And then get an estimate for your own window and door replacement job.