The first thing a person will notice when they visit your home is the exterior. That's why homeowners spend thousands of dollars every year to improve the curb appeal of their properties, getting the yard, siding, trim, and accent elements just right to make a stellar first impression. These are also personal touches that add to the overall charm of your home.
Invest in a Quality Roof
Some home repair projects can be put off forever. Roofing isn't one of them. A quality roof will give you the aesthetics you want and the protection you need. Total Home Construction proudly offers GAF roofing.
All roofing products are not created equal. GAF can provide everything from shingles to ventilation and leak barriers. This innovative brand is committed to sustainability and quality, resulting in an impressive list of product inventions and patents.
Our roofing installers are GAF Master Elite® certified – a distinction only about 2% of all roofing contractors have earned. We're properly licensed, insured and committed to continuing education as part of the GAF training program.
Siding Ideas To Improve Your Home's Curb Appeal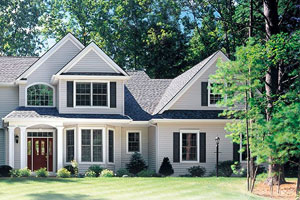 Siding and trim may feel like necessities rather than exciting methods to improve your home living. A gorgeous house with remarkable curb appeal, on the other hand, comes with a slew of advantages that need careful design considerations.
Siding with Vinyl Laps
This is one of the most often commonly used sidings. It comprises laminated plastic strips and looks great instead of typical wood clapboards. It is less costly than brick and may be utilized in various house styles.
Vinyl is exceptionally long-lasting. It can survive adverse weather conditions such as wind, hail, and high temperatures in a manner that wood just cannot. In fact, only brick and stone outperform this material in terms of tensile strength.
It will never rust, corrode, or deform in any manner. Pests like termites, which feed on typical timber siding, are deterred by it. The fact that vinyl is moisture resistant means you'll never have to worry about it deteriorating.
Vinyl siding that is insulated is also environmentally beneficial. It maintains a warmer inside house temperature in the winter and a cooler interior home temperature in the summer, saving you money on energy bills all year.
Stone Siding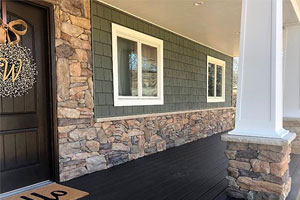 Stone is widespread in the highlands and is typically found in more rustic, rural locations. This is due to its long life and low cost. For more budget-conscious homeowners, stone veneer can be a viable option. This synthetic material creates a similar rustic look at a fraction of the price.
Brick or stone are the most used materials in constructions that have lasted the test of time for hundreds of years. Stone is right up there with bricks in terms of long-term durability. Moreover, this material is resistant to both climate change and insect infestation, effortlessly enduring a lifetime of inclement weather.
Siding Made of Fiber Cement
Fiber cement siding is made from many of the same components as stone veneer, including Portland cement, sand, and cellulose. It comes in various hues and may even be made to seem like genuine wood.
Fiber cement siding has many advantages, including that it won't decay, won't fade from the sun's UV rays, and is impenetrable to termites and other insects that may damage the real wood siding. It may also be readily restored or painted over if you need a refresh down the road. That's all you need to do to keep fiber cement siding in good repair.
Why is Home Curb Appeal Important?
Homes with outstanding curb appeal draw the eyes of those who pass by on the street. The house looks nice and has all the expected features: the yard is well-kept, the paint is brilliant, the siding looks fine, the roof is in good shape, and everything is in order. Having great curb appeal gives homeowners pride and is an essential component of selling the home if and when the time comes.
Expectations are set by curb appeal. If targeted buyers like what they see on the exterior, they'll want to see what's inside. First impressions matter when it comes to selling a house. While improving a property's exterior design may not be as thrilling as deciding what to do with the kitchen, it is just as important.
You could spend a lot of money renovating everything, but at the end of the day, we all want to build something attractive and welcoming.
Get Your Roofing and Siding Consultation Now
Total Home Construction is dedicated to enhancing your home's beauty, value, and performance so that you can be proud of it. Our dependable siding services make homeowners in Nassau, Suffolk Counties, Queens, Westchester County, and the neighboring areas fall in love with their house all over again. Request a consultation with us today.