Most homeowners understand the importance of their roof. It is, metaphorically, the foundation of the home — a fifth wall that defines being inside, safe and protected. That's why the old American expression is, "I put a roof over your head." Less folks brag about providing their family with walls.
Despite the roof's everlasting place in family banter, few homeowners actually take time to check on their ceilings and make sure it is still structurally sound. As a result, they do not notice existent problems until it is too late — a leak is pouring through the ceiling, and they are doing the insurance company. That is not how it has to be, though.
Checking on your roof should be a seasonal chore for every conscious homeowner. According to the National Roofing Contractors Association, homeowners should do so at least twice a year: once in the spring and fall. When doing so, you should not only remove debris from the rooftop, drains, gutters and downspouts, but check for signs of long term damage.
Signs You Need a New Roof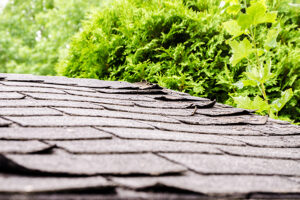 When conducting a semi-annual check-up on your roof, begin by assessing your attic. Look not only for obvious stains and leaks, but for sunlight seeping through the top of the house, which signals drafts and leaks. On the exterior, look out for cracked shingles, excessive plant growth, or droops and sags in the roof itself. A signal of rot and moisture, sagging deserves attention.
Additionally, there are qualitative methods to measure the health of your roof. Review home improvement records to determine how long it has been since a renovation. Confirm which materials your roof is composed of, and how long they are supposed to last. (For example, an ordinary asphalt shingle roof lasts up to 25 years.) And be realistic when crunching the numbers.
Some homeowners hesitate to inspect the integrity of their roof because, well, discovering roof damage is daunting. Beyond expenses, a roof replacement requires decision-making, planning, and hiring help. Don't worry, though — we can provide you with information that will make the entire project run smooth. In this blog, you will learn the basics of a roof replacement project.
The Basics of Roofing Replacement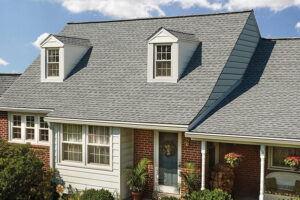 Usually, the first step of a roof replacement project is to remove the old roofing materials. That provides two benefits, according to John G. Schehl, National Roofing Contractors Association. It removes weight, since the existing roofing materials can be heavy. Additionally, it exposes the structural deck for inspection, allowing contractors to make sure it is suitable for accepting the new roof covering.
After any necessary repairs are made to the wood decking, a layer of underlayment is applied to the roof. That layer features an ice and water barrier, as well as felt paper. It is applied to control moisture: without underlayment, water can get into your home. According to Schehl, you can tell it is not properly installed if you can see it after the finished roofing is installed.
The final step of a roof replacement is to install shingles. Your first line of defense against rain and snow, shingles are visible from outside of your home. Many brands manufacture shingles, so it can be difficult to identify the right ones for your home. We at Total Home recommend using GAF, North America's largest roofing manufacturer.
Best Materials: GAF Roofing Shingles
Shingles came a long way since their initial introduction. No longer a solely functional feature, asphalt shingles evolved into a design staple that complements the entire home. In particular, GAF Roofing shingles are available in seemingly infinite styles and colors, and they empower homeowners to redefine the architecture of their homes to make a personal statement.
Roofers swear by GAF roofing shingles because they combine reliable protection with beautiful design. Each shingle is intricately designed with deep detail, and constructed using a durable material. Available in more than 8 colors — including Patriot red and Biscayne blue — GAF roofing shingles look great and can stand up to the elements for many years. As a result, they can help add value to your home.
Most manufacturers of shingles have guidelines on how to install their products. When partnering with a professional roofer, follow those guidelines exactly. Don't let shady contractors claim they know better than the instructions. Do it right.
How to prepare for a roof replacement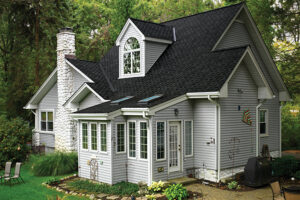 Once you are familiar with the basics of roof replacement, it is time to get started. At Total Home Construction, we are a roofing company that can manage your project from beginning-to-end. We will assess your current roof, replace it by installing a new roof, then support your new one with our long-term warranty and personal guarantee. A winner of GAF's President's Club Award and Installation Excellence Award, our team is committed to protecting your home with the best roofing available.
When the time comes time to prepare for a roof replacement project, we have advice for that, too. Before beginning the project, remove any art or photographs that could be damaged from the walls. Then cover everything in your attic to protect it from getting dirty or broken. Outside of the house, remove anything that can restrict a crew's access to your roof, and try to limit children's or pets' access to the yard.
Finally, make sure you alert your neighbors before beginning a roof replacement project. We at Total Home Construction support being friendly neighbors! Plus, even we would not want to be woken up by construction without a heads-up.
Contact us today to inquire about a new roof or a roof replacement on Long Island.